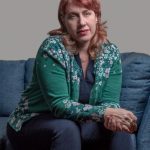 Social Worker, Pennsylvania
Support to grow in tough times.
Counseling solutions for couples, OCD, and anxiety in Philadelphia, and telehealth.
Grow towards one another, grown by managing anxiety and find solutions for OCD.
Grow toward one another.
It's easy to get caught up in fighting and blame, who's right or wrong – and long for that connection you both had at the beginning of your relationship. With a few counseling sessions and an open heart, you can get back on the road to being a strong, loving couple. Couples work uses the Gottman Method and both individual and couples counseling are available.
Grow by managing anxiety.
Anxiety is more than just being nervous. It is a serious condition that can leave you paralyzed and unable to enjoy friends, date, work – or even care for yourself. Treatment is available for Generalized Anxiety Disorder, Obsessive Compulsive Disorder, or phobias. Help is also available for imposter syndrome, insomnia, and social anxiety. Cognitive Behavior Therapy is most helpful for all forms of anxiety.
Find Solutions for your OCD
OCD stands for Obsessive Compulsive Disorder. An individual with OCD often has repeated, distressing thoughts and images that feel uncontrollable and threatening. The individual then responds to the obsessive thoughts with a compulsion. The compulsion can be an action or a mental event. The cycle becomes a trap that can consume hours a day. For many, OCD can feel like a prison.
OCD is best helped with Exposure and Response Prevention, which can be a difficult therapy. However, I am very skilled at meeting a client where they are and pacing the therapy in a way that lessens the discomfort.
My clients appreciate the blend of structure and flexibility in our process. They feel encouraged without feeling forced into a mold or pushed too fast.
HSA and Flexible Spending cards accepted. Evening and morning hours. Call
Contact Details
Practice Address:
1315 Walnut Street Suite 1700 Philadelphia
Philadelphia, Pennsylvania 19107