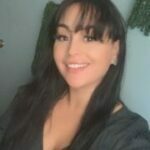 Social Worker and Therapist
Cindy is a bilingual mental health therapist. Cindy is committed to creating a trusting and comfortable space where individuals are able to work on their healing journey. Her approach to healing is strengths-based, holistic, and centered around the individual's preferences and needs.
Cindy has experience working in medical settings where she provides support and therapeutic services. Cindy has…
Cindy is a bilingual mental health therapist. Cindy is committed to creating a trusting and comfortable space where individuals are able to work on their healing journey. Her approach to healing is strengths-based, holistic, and centered around the individual's preferences and needs.
Cindy has experience working in medical settings where she provides support and therapeutic services. Cindy has experienced working with children and adults; though, is deeply passionate of working with young adults. She has extensive experience assisting individuals in recognizing and shifting unhealthy patterns, learning healthy coping strategies, and building on strengths in an effort to encourage motivation and resiliency. Apart from therapeutic services, Cindy offers clinical supervision, mentoring, and professional consultation.
Cindy offers free 20-minute consultations to explore whether she is the right support for you. Please inquire if she is accepting insurance/new clients at this time.
Contact Details
Education:
Rhode Island College: Bachelors and Masters in Social Work