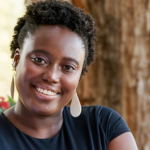 Is it a society issue or a "you" issue? You have had so many life experiences and challenges, what has helped you get to where you are now?  These questions are imperative to me as I explore the clinical needs of the client I serve. As the owner of Ampaw Psychotherapy and Consulting LLC, I hold private practice and consulting spaces that center the clinical and systemic needs of individuals, couples, and families. I  strive to create space for individuals who continue to be minoritized by system
As a social worker, marriage and family therapist in training, and educator I value and center the wisdom that clients bring into the therapeutic conversation. My values also lie heavily in centering and validating the experiences of my clients from an inclusive perspective. My goal is to balance trusting the client to make the best decisions for themselves and create space for collaboration in the therapeutic process. Whether it is Individual, Couples Therapy, or Family Therapy, I believe that therapeutic interventions are tools that support the relationships, not replace them!
Being a woman of color in the field of mental health guides and builds empathy in my work. I believe in creating a comfortable and supportive environment that encourages trust-building and playfulness when appropriate. I approach my work through meeting my clients where they are and creating customized clinical experiences based on the needs of my clients.
Contact Details
Practice Address:
8751 East Hampden Avenue
STE B-9
Denver, Colorado
Education:
University of Denver Graduate School of Social Work & University of Denver Morgridge College of Education (MA in Curriculum & Instruction), Denver Family Institute(complete in June 2022)