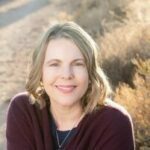 Psychotherapist and Social Worker
My training and expertise is in understanding traumatic and psychological stress and the impact on the autonomic nervous system. Together we will explore the blocks that get in the way of you feeling whole. I strongly believe in the power of resiliency and use this as a guide in our work together.
We will work collaboratively and go at a pace that feels manageable to you. I will support you in reflecting on experiences in childhood which affect you today, such as in relationships or with managing emotions so that you can find resolution to these painful experiences. Knowledge is power. I will help you to identify your emotions, their purpose and gifts. You will learn effective coping strategies to respond to your nervous system's needs. I have worked in the mental health field for 26 years helping people to take back their life story and feel more empowered. There are effective tools to help you move towards greater balance and vitality. I have deep passion for the journey of the mind, body, spirit . I hold hope for everyone I work alongside that they too can feel the aliveness right here, right now. My style combines mindfulness, psychodynamic, somatic (body), cognitive based approaches.
Contact Details
Practice Address:
1735 East Fort Lowell Road

Education:
Master's degree Clinical Social Work