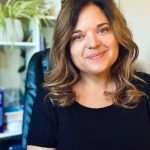 Social Worker and Therapist
It takes bravery to reach out and allow someone else in on our personal healing journey. I believe in meeting people where they are, and equipping them with the tools they need to walk into healing and connect with deeper insight and peace. Walking through trauma, chronic pain, and grief are oftentimes some of the most difficult winters that a person can face, but allowing oneself to bravely begin to grieve can lead to the dawning of a new season.
I strive to create a safe and comforting space where this work can be done. I believe that each one of us has the capacity to heal and experience peace and wholeness.
I enjoy working with people from diverse backgrounds. I love supporting individuals who may be experiencing chronic health conditions and recent medical diagnosis, along with trauma survivors, and those looking to integrate faith into this work. I utilize a strengths-based approach in practice, along with EMDR, mindfulness, and parts work (IFS).
Contact Details
Practice Address:
telehealth
Flagstaff, Arizona