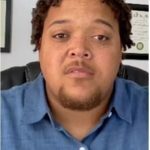 Social Worker and Therapist
Hello and Welcome. Our agency offers affordable, low-cost, telehealth/online therapy. My goal is to provide a safe, non-judgmental, and supportive space that will allow you to openly express your thoughts and feelings.
Hello and welcome! I'm Isiah Green. I am a Black Man with a passion for working with individuals and couples including Men/Women/Trans and Non-Binary clients ranging in age from 13-80. The choice to begin therapy is a testament to your strength and courage. The weight of your issues at times can be tough to carry; especially when it's too heavy or no one has taught you how to bare it. Some of us have been taught to "be strong" and just "make it work", and to never complain. However, this can leave you feeling overwhelmed or confused about your own emotions.
I specialize in assisting clients with relationship/couples' issues, depression, obsessive-compulsive disorder, anxiety, domestic violence, trauma, and grief.
My therapeutic approach includes Cognitive Behavioral Therapy (CBT), Narrative Therapy, Solution Focused, and Gottman's Couples Therapy. I believe that there is no straight path to fixing all our problems as we are all unique. I use all my knowledge and resources to assist every type of client I encounter.
A little bit about me: I am a father, who has spent 8 years serving as a member of the United States Navy, with combat-trauma-based experiences; 4 of which were spent working as a Sexual Assault Victim Advocate for members and families of the armed services. I received my Bachelor of Science in Psychology from the University of La Verne, and my Master of Arts in Marriage & Family Therapy from Pepperdine University.
Contact Details
Practice Address:
9431 Haven Avenue
Suite 100
Rancho Cucamonga, California 91730