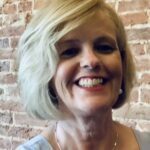 My practice specializes in treating individuals, couples and families, and through years of experience, I'm confident that no problem is too great to overcome.
LCCS is located in the heart of downtown Lititz. I specialize in helping individuals deal with the difficulties and challenges life presents us. I work from an evidenced-based, strength-based approach, identifying and using the client's strengths to manage anxiety and stress while building health and resilience. My area of focus is coping with infertility, perinatal mental health, anxiety, depression, trauma, grief, chronic illness, and caregiver stress. I work very collaboratively with my clients toward their individual or relationship goals. I look forward to working together towards optimum psychological health.
There is no greater privilege than to be invited into another's journey. I work from a collaborative approach with my clients to establish, safety, trust, and rapport. I am deeply committed to listening when others share their stories, developing a better understanding of their lives, and instilling self-compassion. The focus of each session is you.
I work closely with clients and their providers on a daily basis constantly seeking opportunities to integrate compassion, empathy, and brain health into my practice. I am a member of the Pennsylvania Society for Clinical Social Work, The American Society For Reproductive Medicine, RESOLVE, and the American Academy of Experts in Traumatic Stress.
Contact Details
Practice Address:
Lancaster County Counseling Services 79 E Main Street
Suite 303
Artesian and Chicago, Illinois 17543