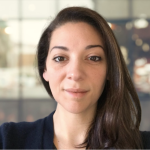 Psychotherapist, New York
My work is client-centered and designed to meet each person where they are, with compassion and openness. We can work together to meet your individual goals.
With my Masters degree in Art Therapy from New York University's Steinhardt School of Human Development, I am a Licensed Creative Arts Therapist (LCAT) with nearly six years of professional experience in the field. I deeply appreciate the privilege of guiding individuals on their journey of self-expression, self-discovery, and healing. I collaborate with clients to create a treatment plan that uses both traditional talk therapy and the creative process. I have treated individuals of all ages, and my therapeutic approach is psychodynamic and humanistic.