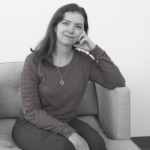 Psychotherapist and Therapist
Providing outpatient counseling to adults in Washington for eating disorders and relationship with body, food, and movement.
Whether you're recognizing that your relationship with food or your body aren't working for you or you're totally ready to divest from diet culture, I'm here to support you. I understand how food and movement choices meant to put you on the path you're wanting for yourself can get out of hand and seem to knock you off your path completely. If your relationship with food, movement or your body are causing anxiety, depression, or overtaking things that matter to you, know that you don't have to walk that path alone. I support clients to feel empowered to fully step into who they are – wherever they currently are on that journey.
As a licensed counselor, certified nutritionist, massage therapist, and certified exercise physiologist, I offer a holistic, client-centered approach. Healing my own relationship with food and working at a Health At Every Size eating disorder treatment center enabled me to offer weight-inclusive care for body image concerns and a range of eating disorders.
I believe we're all just suffering from the human condition and so many struggles in our lives arise from circumstances and systems of oppression that disconnect us from our true selves. In our work together, we can co-create a space for transformation. Healing happens here.
Contact Details
License:
Licensed Mental Health Counselor Associate