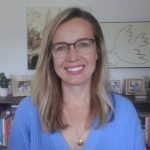 I am a licensed professional counselor with a decade of post-graduate clinical experience. I'm also a human being who's living in this beautiful, challenging world, just like you. My strengths as a clinician include forging strong relationships with my clients and providing them with various resources to help them better understand themselves and the world.
I am licensed to work with clients in Virginia, Texas, and Colorado. My favorite clients are asking tough questions about themselves and their world, seeking to find meaning, joy, and growth. Maybe you're seeking some support through a transitional phase, getting ready to finish college, learning to "adult," or preparing for marriage or parenthood. If you are looking for a warm and collaborative space to process your emotions and maybe get some podcast recommendations along the way, we might be a good fit.
Oh, and if the phrase "Highly Sensitive Person" means something to you (or feels like it should), I've got you.
I specialize in work with young adults addressing an array of concerns, including adjustment difficulties, interpersonal and/or romantic relationship issues, grief, gender and sexuality concerns, depression, anxiety, and other challenges common to emerging adulthood.
Contact Details
Practice Address:
Richmond
Richmond, Virginia
Education:
M.A., Ed.M Psychological Counseling, Columbia University; B.A. Psychology, B.A, Studies in Women and Gender, University of Virginia