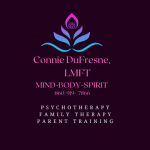 Psychotherapist, Connecticut
Connie Dufresne is a Therapist based in Central CT. My areas of speciality include ADHD, Depression, EFD,Bipolar Disorder, Borderline Personality, Chronic Impulsivity, Codependency, Coping Skills, Divorce, Emotional Disturbance, Parenting, Relationship Issues.
Connie has worked in the Mental health field for nearly two decades. This work has inclueded, complex family systems, school based needs and transitions, life complexities and transitions, trauma one endures within their life, and learning how to develop ways to cope with daily stressors in a way that feels more managable to each person.
Connie has a person center approach. Putting the clients needs and goals first in treatment,helping explore what they would like to focus on to get them to the goal that brought them to seek treatment in the first place.
Connie uses a multisystemic approach looking at all aspects of a persons, couple or family life so that they have a complete picutre of how change will be most meaningful and sustainable to them.
Contact Details
Practice Address:
1686 Farmington Ave Suite 201B
Unionville, Connecticut 6085