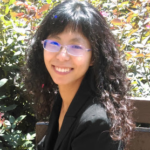 Grow Your Mind Psychotherapy is a trauma-informed counseling services. We are specialized in treating adolescents and adults for different mood disorders, such as depression, anxiety, OCD, trauma and more! Our approach is compassionate, holistic, and person-centered. We use evidence-based intervention to help you unfold your strengths and support you on this healing journey! We are currently accepting new clients! Please visit our website to learn more about our work!
Alison is a person-centered therapist and she is experienced in working with adolescents and adults. Her goal is to empower and motivate clients.
​She uses holistic approach and her style is very flexible. She draws a variety of modalities (CBT, mindfulness, and Ericksonian hypnosis) to meet clients' needs.
Even though she does not prescribe medications, she is the prescriber for tips of happiness. She is specialized in finding the silver lining in a difficult situation and she will guide you to see the light at the end of the tunnel.
Her clients often describe her approach is warm, enlightening, and interactive. She believes that everyone has their own gifts and full of potential and her job is to guide clients to get close to their inner wisdom and unfold their potential.
She is confident to help clients reach to the stage of authenticity, mindfulness, and embrace who they are.