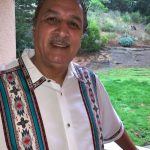 Psychotherapist, California
RICARDO CARRILLO, PhD, in private practice as a clinical forensic psychologist. He is currently the director of a prevention and early intervention project for La Clinica de la Raza. He continues to conduct policy research for the California Endowment on disparities in Latino Mental Health. He served as executive director of Primer Paso Institute, Inc. a Latino behavioral health organization serving rural communities in the areas of substance abuse, mental health and domestic violence. As Direct
RICARDO CARRILLO, PhD, in private practice as a clinical forensic psychologist. He is currently the director of a prevention and early intervention project for La Clinica de la Raza. He continues to conduct policy research for the California Endowment on disparities in Latino Mental Health. He served as executive director of Primer Paso Institute, Inc. a Latino behavioral health organization serving rural communities in the areas of substance abuse, mental health and domestic violence. As Director of Latino Mental Health for Kaweah Delta Health Care District is most recognized as an expert witness and international consultant in the areas of family therapy, domestic violence, cross cultural psychology, forensic psychology, and cultural competence. He has provided leadership in the areas of program development with domestic violence offenders, Latino mental health, and chemical dependency populations. He attended the California School of Professional Psychology in Fresno, CA. He has taught for ten years in professional psychology schools in the Bay area and Fresno, CA. He continues to provide professional consultation to a variety of agencies. He is a training consultant for the National Latino Alliance on Domestic Violence (Alianza) in the Latino Community and the National Compadres Network, Inc. He has 15 years of recovery and stems from several generations of addicts.
Dr. Carrillo enjoys the performing and culinary arts. He is the father of Regina and Reynaldo, and grandfather to David Valenzuela Preciado, Micah Daniel Preciado and Reyna Carrillo. He is the co-founder of the Latino Men's Circle that is dedicated to living as a noble man and an advisory board member of the National Latino Compadres network and the National Latino Fatherhood Institute.
He is the co-editor, along with Jerry Tello, of the text FAMILY VIOLENCE AND MEN OF COLOR; published by SPRINGER PUBLISHING COMPANY in 1998, second edition, 2008.
DEGREES AND HONORS
1983 – Ph.D.
Clinical Psychology – California School of Professional Psychology Fresno, CA
1981 – M.A.
Clinical Psychology – California School of Professional Psychology Fresno, CA
1978 – B.A.
Psychology – University of California Santa Cruz,
Contact Details
Practice Address:
365 Talbot
Pacifica, California 94044