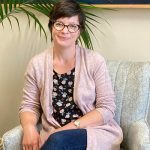 Trauma Therapy and Parenting Support on-line or in person in Olympia, Washington
Trauma leaves us feeling shattered, broken and disconnected, adding parenting to the mix can make it that much harder. You may be fed up with being stressed or triggered all the time, feeling anxious, lost, hopeless, maybe even guilty for what happened to you and guilty that you can't always be the parent you'd hoped. You might not even remember a time things didn't feel this way. But one thing is for sure: you're ready for some relief. You're ready to make sense of your experiences. You're ready to re-gain control. Most of all, you're ready to feel capable and empowered to be the parent your children need.
Clients come to me looking for a therapist who has a plan to help them reach their goals from day one, because therapy should be a place where you feel supported and can move forward. Sessions with me are more than just talking. Together, we will use proven methods to help you gain skills and resolve the past so you can be more present with your kids.
As an experienced trauma therapist, parent coach, as well as a survivor and a mom I know that every parent is doing the best they can, but past experiences can get in the way. You don't have to continue feeling overwhelmed, and you don't have to do it alone. Visit my website, www.flourishandthrivetherapy.com or call me today for a free 20 minute consult call. I can't wait to hear from you!
Contact Details
Practice Address:
203 4th Ave E
#410
Olympia, Washington 98501
License:
Licensed Mental Health Counselor