Reaching the decision to seek out a counselor is a brave step that isn't always easy to take. The next step is finding the right counselor for you. It would be great if finding the right counselor was as simple as identifying the right type of counselor with appropriate credentials. But it doesn't always work that way. Sometimes finding the right counselor for you takes time and requires meeting with multiple mental health professionals before finding the right fit. Whether you interview multiple counselors or love the first one you meet, your mental health is worth the process.
There are a lot of counselors out there and many different ways to find the one that's right for you. You probably don't just want to Google counselors in your area and pick the first name on the list. A more strategic search will help you narrow your options and hopefully find a fit more quickly.
8 Ways to Find a Counselor
Primary Care Physician. You likely already have a primary care physician that you know and trust. They can refer you to a counselor they partner with.
Friends or Family. I found my counselor through a friend. You'd probably be surprised by how many of your friends or family members see counselors and would gladly share their experiences (and names) with you.
Directories. Counselors list their services in online directories. You can learn about each counselor, their credentials, and the services they offer through directories. All Counseling offers a sortable directory of therapists to help you find a counselor in your area to fit your needs.
Health Insurance Company. Your health insurance provider can give you a list of counselors they work with and whose services they cover.
Places of Worship. People within your religious community, including church leaders, can share names of counselors they recommend, especially if you're looking for a faith-based counselor.
Support Groups. Groups, such as those for LGBTQ+ people, often have lists of counselors they recommend for those within their groups.
Education Institutions. Universities, colleges, and schools of all types have counselors on staff, as well as outside counselors they recommend for services.
Nonprofit Organizations. Organizations that serve niche communities with specialized needs often partner with counselors who they recommend to those they serve.
Once you have a shortlist of counselor names to consider, research them online. Set up a phone consultation to see if the fit feels right for you. Your first session likely will be more like an interview where you try to determine face-to-face if the counselor is right for you.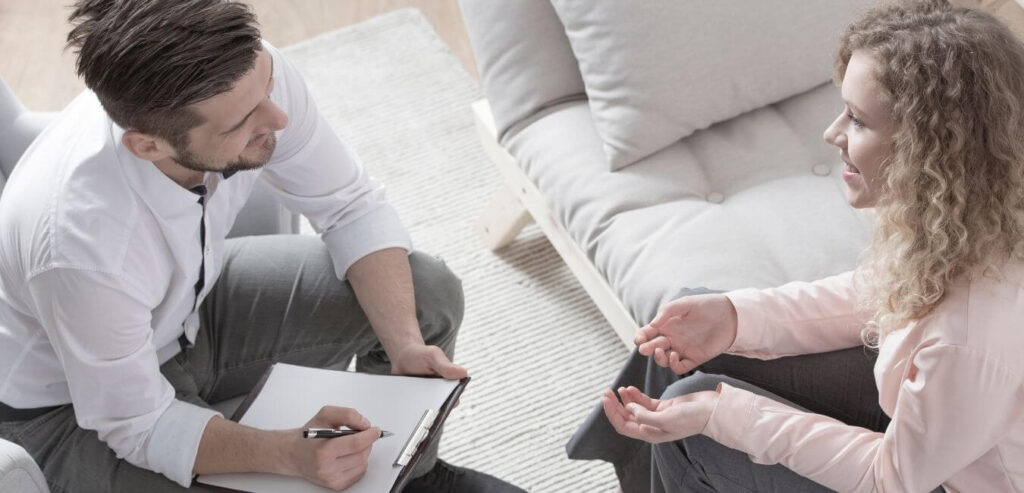 Sometimes you meet a counselor and you just know the fit is right. Other times it's not. Then there are times when you aren't sure, and it takes more than one session to decide. Please don't give up, no matter how much searching it takes. It'll be worth it when you find the right person.
How to Know When a Counselor is Right for You
You Feel Comfortable. How you feel when talking to the counselor is a significant indicator of whether the fit is right. Do you feel comfortable talking to this person? Do you trust their expertise? Are they respectful of your time, feelings, and healing process? Do they share their thoughts on your diagnosis and advice with you? Like any other medical professional, you don't want to partner with a counselor you don't feel comfortable with or don't trust completely.
They Understand You. Is your counselor respectful of your lifestyle choices and belief system? Do they acknowledge experiences you have that they cannot understand? If not, they may not be the right fit for you. It may even take you a few appointments to figure this out. Start by asking them about their philosophies on care. Also, even if they don't have the same experiences as you, do they try to learn about impactful experiences to better understand and support you? Your counselor needs to fit you and your needs, not vice versa. If they aren't willing to meet you where you are, they probably aren't a good fit.
You Share Goals. What are your goals for therapy? Does your counselor support those goals and express a willingness to work with you to accomplish them? If so, it's more likely that you're in the right place.
Their Expertise Fits. Does the counselor's area of expertise fit with your mental health needs? You want to make sure the counselor you see is the right type. For example, you probably don't want to go to a faith-based counselor if you don't have strong religious beliefs.
Consider Cost. Sadly cost is a practical factor you have to deal with, even when searching for mental health services. Consider whether your insurance covers the counselors you meet with. Also, understand how much it will cost you out-of-pocket.
Evaluate Location and Hours. You'll need to attend counseling appointments regularly. Consider whether the counselor's office is convenient for you and whether their office hours fit your schedule well.
If the counselor you choose is not a fit, it's absolutely acceptable to move on. Not every counselor is the right fit for every person. Your goal is to find someone who is the perfect fit for you. And remember, you'll likely only have to go through this process once before you form a long-lasting relationship with your chosen counselor.
Let All Counseling Help Find the Right Counselor for You
It's critical that you find the right counselor for you, even if it takes meeting multiple counselors to find that fit. It will be worth the process when you find the right person to help you begin your journey of discovery and healing. All Counseling is here to help you get the mental health support you deserve. Use our searchable counselor directory to find the counselor you need.