You've probably heard about podcasts. You may even listen to them already. They're a (usually) unscripted series of conversations on a specific topic, releasing new episodes regularly. Topics include anything from pop culture to comedy, true crime, self-help, current events, and more.
But podcasts aren't just for fun. You can use them to improve your therapy practice. Podcasts can provide therapists with alternative access to learning that they would otherwise only get from attending seminars or reading books.
By listening to podcasts, you can gain insight into new approaches to therapy, learn about the latest research findings, and hear about the experiences of other therapists and how to build your practice, all from the comfort of your home, office, or vehicle.
Why the World Loves Podcasts
Almost 465 million people listen to podcasts, and experts expect the number to continue growing. If you're interested in something, there's likely a podcast about it. In mental health, there are all different kinds of podcasts — from advice columnist-style podcasts to ones that interview experts in the field. You can almost certainly find something to help you grow, which is one of the many reasons people love podcasts.
Entertaining – People love the entertainment value of podcasts. You can enjoy engaging, informative, and often humorous content on various topics, making podcasts a favorite among listeners worldwide. Podcasts for therapists can put a fun spin on often intense issues.
Relatable – 

Podcasts are typically conversations. They provide a way for people to chat about the things you're interested in. Podcasts about therapy usually take complex topics, make them more easily digestible, and relate them to situations you may encounter in your practice.

Informative – 

Podcasts usually feature hosts and guests who are passionate and knowledgeable about the topics they discuss. Listening to podcasts lets you easily access their expertise and apply their insight to your practice. Podcasts for therapists may include information about the latest trends in psychology or deeper dives into older theories. They can also provide details on the day-to-day operations of a practice, giving you actionable tips to help improve your business.

Convenient – 

Rather than a video where you have to give it your full attention, you can easily download podcasts and listen to them anytime. This convenience means you can consume them on the go or during daily activities like commuting, exercising, or cooking. You can pause them and rewind to catch something you missed or relisten to episodes you find particularly interesting. You can subscribe to a podcast to automatically receive new episodes as they are released or stream individual episodes when convenient.

Accessible – 

Most podcasts are free to listen to and can be found on various platforms, meaning you can listen to them wherever you consume media. Because they're usually free, they are a budget-conscious way to educate yourself, and the variety of podcasts available means there's almost no limit to what you can learn about.

Connecting – 

Many people listening to podcasts feel like they're part of a community. They allow you to listen to and learn from people you may otherwise not come across in your daily life. Some podcasts also have online communities you can join to discuss episodes or continue the conversation. Podcasts may also help you when attending networking events, as you'll have something to discuss with your colleagues — chatting about your favorite podcasts is a great way to break the ice.
Types of Podcasts that Can Help Your Practice
While podcasts can be informative and entertaining, listening to certain ones can also help you gain valuable knowledge that will help grow your practice. Consider the following types of podcasts for this purpose.
Psychology Focused – These podcasts can help you expand your knowledge and understanding of psychology. They allow you to learn things you may otherwise not consider and stay abreast of the latest insights in the field. Some podcasts may also discuss details of new legislation or treatment modalities, giving you the edge you need to serve your clients better.
Operational – 

Whether you are just starting or looking to take your practice to the next level, there is likely a podcast that can help you achieve your goals. Many podcasts speak to therapists who have built successful practices and discuss ethics, self-care, and how to stay motivated. They may give insight into subfields of psychology and provide you with the overview you need to decide if you want to specialize in a specific field.

Marketing – You need to market yourself to bring in more clients, but this is an often overlooked area for many psychologists. By listening to podcasts focused on marketing, you can learn what others in your field are doing to encourage people to become clients. Then you can apply these tips to your practice.
Our Top 10 List of Podcasts for Therapists
Here's a list of the top 10 podcasts we think all therapists should know about. While you may not want to add all of them to your listening queue, there's likely something here you could benefit from. Read on to learn more about each podcast and how to listen to it.
1. Therapy Chat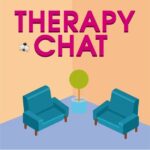 Therapy Chat provides perspectives from various experts, helping listeners deepen their understanding of mental health issues and treatment options. One of the unique features of Therapy Chat is its focus on trauma-informed care. Laura is a certified clinical trauma professional. Many of the show's guests are trauma treatment and recovery experts. The show explores different approaches to treating trauma and how trauma can impact individuals and communities.
Hosted by:
Laura Reagan, LCSW-C – Psychotherapist, burnout prevention consultant, and certified Daring Way™ facilitator
Notable guests:
Harvard-trained traumatologist Leslie Korn, author of 10 books, including Rhythms of Recovery: Integrative Medicine for PTSD and Complex Trauma, Natural Woman: Herbal Remedies for Radiant Health at Every Age and Stage of Life, and The Good Mood Kitchen: Simple Recipes and Nutrition Tips for Emotional Balance.
Psychotherapist and codependency expert Sharon Martin, author of The CBT Workbook for Perfectionism.
Licensed psychologist Jonice Webb, author of Running On Empty: Overcome Your Childhood Emotional Neglect and Running On Empty No More: Transform Your Relationships With Your Partner, Your Parents, and Your Children.
Recent episodes:
Oppression + Marginalization in Couples Therapy – With Akilah Riley- Richardson
Understanding the Structural Dissociation Model – With Kathy Steele
When to Safely Begin Processing Complex Trauma Using EMDR with Dr. Deborah Korn
Beyond Protocol: The Art + Science Of EMDR With Rotem Brayer
Where to listen:
2. Therapy for Black Girls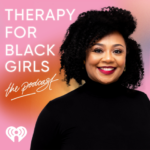 Therapy for Black Girls podcast addresses the unique mental health needs of Black women and girls. Therapy for Black Girls touts itself as a weekly chat discussing "all things mental health" and how small decisions allow people to become their best versions. The show also features interviews with other mental health professionals who offer expertise and insights on therapy, medication, and alternative forms of healing.
Hosted by:
Joy Harden Bradford – Licensed psychologist and public speaker
Notable guests:
Recent episodes:
How Trauma Affects the Brain
The Truth About Imposter Syndrome & Perfectionism
The Mental Health Benefits of Birdwatching
Protecting Your Mental Health As A Black Woman Attorney
Where to listen:
3. Therapist Uncensored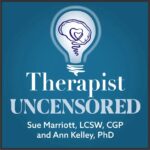 Therapist Uncensored explores how early childhood experiences can shape adult relationships and the impact of trauma and stress on the brain and body. Every episode of Therapist Uncensored features in-depth discussions of mental health and psychotherapy topics, such as trauma, relationships, anxiety, and depression. The podcast draws on the latest research findings and insights from experienced therapists and experts to provide listeners with a comprehensive and up-to-date understanding of these topics.
Hosted by:
Sue Marriott LCSW, CGP – Licensed therapist
Ann Kelley – Licensed therapist
Notable guests:
Licensed Clinical Social Worker and Certified Group Psychotherapist, Jeanne Bunker, LCSW, CGP
Author of Treatment for Body-Focused Repetitive Behaviors: An Integrative Psychodynamic Approach, Stacy Nakell, LCSW
Harvard-trained and published neuroanatomist, Jill Bolte Taylor
Recent episodes:
A Client's Perspective on EMDR with Dr. Deborah Korn & Michael Baldwin
What Tiny Humans Can Teach Us About Adult Relating, with Neonatal Therapist Sue Ludwig
Training Your Brain & Body to Thrive During Stress with Dr. Elizabeth A Stanley
Whole Brain Living, Psychology + Neuroanatomy + Spirit with Dr. Jill Bolte-Taylor – REPLAY (195)
Where to listen:
4. Dear Therapist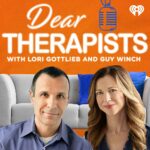 Dear Therapist is based on a popular advice column of the same name, written by psychotherapist Lori Gottlieb for The Atlantic. Dear Therapist offers a unique opportunity to sit in on real therapy sessions with real people. Each episode addresses letters from listeners seeking advice on various topics, including relationships, family dynamics, career challenges, and mental health concerns.
Hosted by:
Lori Gottlieb, Author of Maybe You Should Talk To Someone
Guy Winch, Author of Emotional First Aid
Recent episodes:
Danica's Rejected Sibling
Two Therapists and a Monk
Molly's Father's Suicide
Libby's Self-Induced Stress
Where to listen:
5. The Psychology Podcast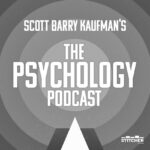 Since its inception in 2014, The Psychology Podcast has offered insights into the mind, brain, behavior, and creativity. The Psychology Podcast explores its guests' personal experiences and journeys, providing listeners with insights and inspiration they can apply to their lives. Each episode offers insights and perspectives from a wide range of experts, with Kaufman beginning the show to spotlight underheard voices.
Hosted by:
Scott Barry Kaufman – Cognitive scientist, humanistic psychologist, and certified positive psychology coach
Notable guests:
Neuroscientist and podcaster, Andrew Huberman
New York Times best-seller, Susan Cain, author of Quiet: The Power of Introverts in a World That Can't Stop Talking and Bittersweet: How Sorrow and Longing Make Us Whole
Sensory-Processing Sensitivity (SPS) expert Elaine Aron
Recent episodes:
What is Creativity? || The Human Potential Lab
Life in Five Senses || Gretchen Rubin
The Journey from Isolation to Openness and Freedom || Sharon Salzberg
The New Science of Consciousness || Anil Seth
Where to listen:
6. Selling the Couch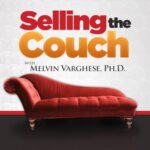 Learn about the business side of running a successful practice with Selling the Couch. Each episode of Selling the Couch offers practical tips and insights on various topics related to running a successful private practice, including branding, marketing, networking, finances, and client retention. Varghese shares his experiences as a therapist and entrepreneur and interviews other mental health professionals who have built successful practices.
Hosted by:
Melvin Varghese, Ph.D. – Marketing expert and early career psychologist
Notable guests:
Licensed psychologist and founder of Open Minds: Psychotherapists Affirming Sexual and Gender Diversity, Keely Kolmes, PsyD
Licensed Clinical Social Worker and Board-Approved Clinical Supervisor, Ariana Lloyd
Owner of Eat With Knowledge Nutrition PLLC, Jennifer McGurk, RDN, CDN, CEDS-S
Recent episodes:
How To Work Through Perfectionism When Launching Your Online Course (Katie Lear, LCMHC, RPT, RDT)
How To Not Let Work Become Your Identity (Dan Cumberland)
Building A Second Brain, Melvin Varghese, Ph.D.
3 Tips To Significantly "Wow" Your Telehealth Videos
Where to listen:
7. The Practice of the Practice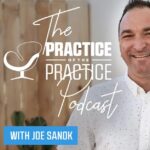 The Practice of the Practice focuses on helping mental health professionals build and grow successful private practices. Each episode of The Practice of Practice offers practical tips and insights on a range of topics related to running a successful private practice, including branding, marketing, networking, finances, and client retention. It provides actionable steps to build on big ideas and free up your time.
Hosted by:
Joe Sanok – A keynote and TEDx speaker and business consultant
Notable guests:
Recent episodes:
Common Triggers and Trauma of Therapists, First Responders, and Helpers with Jessica Wright
Grief and Trauma Healing with Ashley Mielke
Incorporating ACT, CBT, and Mindfulness into Anger and Anxiety Work with Alisa Kamis-Brinda
Working with Toxic Families with Donna Hunter
Where to listen:
8. Where Should We Begin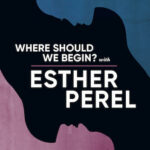 Where Should We Begin covers topics related to relationships, including communication, trust, intimacy, and more. Where Should We Begin provides listeners with insights and advice on relationships and mental health topics. Perel offers commentary on each session, providing listeners with context and perspective on the issues faced by the couples, as well as practical tips and advice for addressing similar challenges in their relationships.
Hosted by:
Esther Perel – Psychotherapist and relationships and sexuality expert
Notable guests:
Each episode features a real couple who have agreed to share their personal and often intimate experiences with listeners.
Recent episodes:
I Need Her To See Me
Still Single at 40
Stuck In The Middle
I Deserve to Be a Mother
Where to listen:
9. Happier with Gretchen Rubin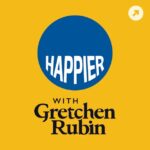 While not a traditional mental health podcast, Happier with Gretchen Rubin focuses on practical strategies and insights for living a happier, more fulfilling life. Each episode of Happier offers a range of tips and insights on a specific theme or topic related to happiness, such as habits, relationships, productivity, and self-care. The hosts draw on their experiences and research in the field of happiness and interview experts and celebrities who offer their insights on these topics.
Hosted by:
Gretchen Rubin -Bbestselling author of The Happiness Project and Better Than Before
Elizabeth Craft – Hollywood show-runner and younger sister of Gretchen Rubin
Notable guests:
Author of Your Invisible Network: How to Create, Maintain, and Leverage the Relationships That Will Transform Your Career, Michael Melcher
Renowned editor and author of The End of Your Life Book Club and Books for Living, Will Schwalbe
Author of the #1 New York Times bestseller Quiet: The Power of Introverts in a World That Can't Stop Talking, Susan Cain
Recent episodes:
Do the Thing You're Encouraging Someone Else to Do, a Networking Hack, and Finisher vs. Opener
Tackle a Project by Considering the Five Senses, Enjoy More Luxury, and Hold Better Meetings
Use Touch When Talk Is Tough, Close Your Eyes in a Dressing Room, and Answers for Questioners
"Taste It by 25," Ways to Make Networking Easier, and Why 4/10 Is a Day to Consider Your Tendency
Where to listen:
10. Abundant Practice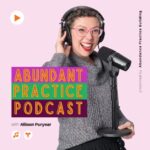 The Abundant Practice podcast focuses on helping mental health professionals build successful private practices. The Abundant Practice Podcast encourages you to approach your businesses with abundance and generosity rather than scarcity and competition. This mindset shift can be transformative for people looking to build successful and fulfilling practices.
Hosted by:
Allison Puryear – Eating disorder and anxiety expert
Notable guests:
Recent episodes:
When You Find Out You Know A Client's Relative, Do You Mention It or Keep It to Yourself?
Decolonizing Your Practice, feat. Silvana Espinoza Lau
How Do I Build Referral Relationships & Establish Trust?
The Power of Pinterest, feat. Laura Rike
Where to listen:
Podcast Your Way to Success
Listening to podcasts can help you learn more about mental health, grow your practice, and spark motivation. You can use podcasts to stay ahead of industry trends and learn how to create a work-life balance for yourself to avoid burnout. These things will enable you to become a better therapist and provide the best possible care for your clients.
Podcasts aren't the only way to improve your therapy practice. Working with the right clients and placing yourself where they can find you are key to expanding and improving your practice.
Claim your profile with All Counseling today to put yourself front and center when potential clients seek therapy.