What is Google Business Profile?
Google Business Profile is a free tool that allows therapists and counselors to manage their local online presence across Google Search and Maps. When you enter and verify your business information, this profile can help future customers find your business in local results on Google's Search Engine Results Page (SERPs) or in Google Maps.
By adding or updating a business profile, you can manage the information that users see when they search for your business on Google. This data includes things like contact information, hours of operation, a business description, photos, and a link to the company's website.
This is super important because this information could be the first impression a prospective client has about you and your business. You want to be able to control that data and this profile will help you do so.
What Kind of Searches Are Powered by Google Business Profile?
For companies that focus on a local geography, Google Business Profile offers the ability to increase your ability to show up in search results for locally focused searches.
What you may not realize is these local searches happen in a variety of ways. Here are three examples:
ADHD therapist in Nashville – A local search that includes a city or state in the phrase.
ADHD therapists near me – A local search includes a "near me" query. Google will attribute near me to the location near the searcher's digital footprint.
ADHA therapist – Or it could be a search for something with just the term. There are many terms that Google considers local, which means the search results will be locally focused even if the user doesn't type in an area.
What Do These Profile Results Look Like?
There are two types of results that can be driven from Google Business Profile. One is Maps driven and the other is Knowledge Panel driven.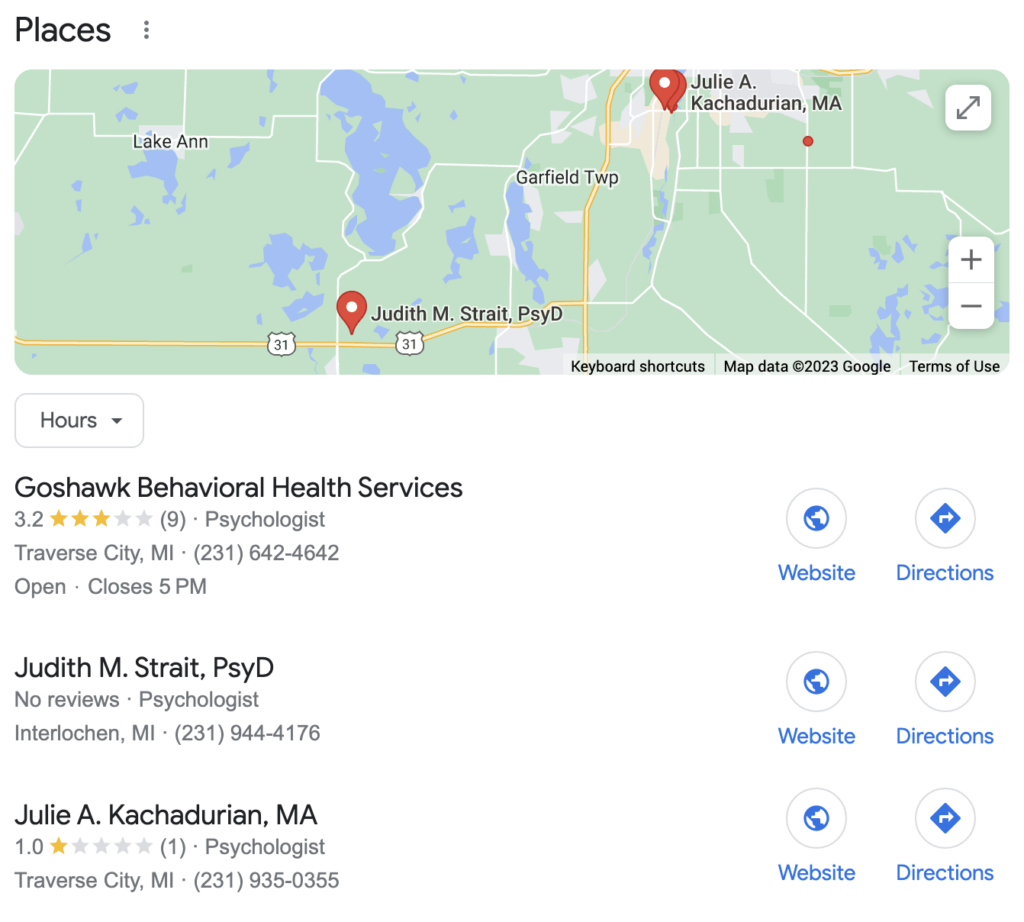 Regardless of the presentation of data, you want to control what users see. In the above examples, we can see the therapists are not setting a great impression for those users viewing their profiles.
What Data Is Available in Google Business Profile?
There are a lot of data options available in Google Business Profile and not all will apply to every therapist or counselor.
Here is the big list of data options:
Business name
Business address
Business hours
Business description
Business logo
Link to your website
Business categories
Photos of the business or staff
User reviews
Service listings
Frequently asked questions
Link to appointments
Offers and promotions
Events
Videos
I encourage you to start small and build your profile over time. That way you won't be overwhelmed and you'll do a better job of creating quality content.
Steps to Get Started
Go to https://business.google.com/create and look for your business. You'll need to do this before you can update an existing profile or add a new one.
When you add or claim your profile, you'll need to verify it with Google. You can verify it through phone, text, email, or video.
Once your profile is verified, you'll be able to add data to your listing and augment it to best highlight your practice. Remember the more you add, the more details Google will have to present you in search results.
For initial setup, consider populating:
Business name
Business address
Business hours
Business description
Business logo
Link to your website
Business categories
Steps to Augment Your Profile
Once you have mastered this basic information, you'll want to move on to more advanced data points such as:
Photos of the business exterior, office interior, or staff
Service listings
Frequently asked questions
Link to appointment scheduling
Offers and promotions
Events
Now I'd encourage you to take a few minutes to go back and review the categories listed within your profile. This is a big contributor to rank in local search. You can have multiple categories, but the first one should be the most relevant. Categories therapists might use include:
Addiction treatment center
Alcoholism treatment program
Child psychiatrist
Child psychologist
Coaching center
Counselor
Domestic abuse treatment center
Family counselor
Halfway house
Hypnotherapy service
Life coach
Marriage or relationship counselor
Psychiatrist
Psychoanalyst
Psychologist
Psychomotor therapist
Psychoneurological specialized clinic
Psychopedagogy clinic
Psychosomatic medical practitioner
Psychotherapist
Reiki therapist
Sexologist
Finally, it would be great to go back and review or add services. I mentioned them above, but most people don't add them right away. So, I bring them up again to make sure you don't skip this part. Examples of services you could enter include:
Types of sessions offered like group, individual, telehealth, etc.
Areas of specialties like addiction, depression, aging issues, etc.
Treatment therapies like Attachment-based Therapy or Cognitive Behavioral Therapy
Communities you support like active military, medical professionals, or maybe LGBTQIA+
Wrapping Up
Adding and optimizing your Google Business Profile is a task every therapist should do. It's free and it is the best way for you to control when you show up in a search and how those results look.
The time you spend on this activity will come back to you tenfold in new clients and increased revenue for your business.